Looking for the most beautiful hotels with spa in the south of France? We visited for you the spa hotel of Fontcaude Juvignac. Just a stone's throw from Montpellier, this beautiful 4-star hotel is a true ode to digital disconnection, inviting you to relax between the natural spring of Fontcaude and the Juvignac International Golf Course!
Let's escape together to Occitania, in this unique luxury spa hotel presented in our magazine.
The history of the Fontcaude spring
It is within the locality of Fontcaude, meaning "hot fountain" that the water from the Valadière spring flows through Juvignac. Notice to water memory theorists! It has travelled through more than 1200 years of history and witnessed the transformation of the Gallo-Roman domain Juviniacum into that of Fontcaude. Even if this water has been classified as a thermal water since the 19th century, its benefits were already well known. We know in particular that Charles Bonaparte came to take care of himself there in 1780.
Today, it flows freely and feeds the Fontcaude estate, a spacious balneotherapy center bordered by 180 hectares of green golf course.
The therapeutic virtues of the spa Montpellier Juvignac
With a constant temperature of 23°, the water in the Fontcaude spa is naturally rich in bicarbonate and magnesium while remaining weakly mineralized. It is thus renowned for its gastric and rheumatic benefits. Thanks to its abundance in bicarbonate, it helps recovery while magnesium reduces fatigue and stress.
We can confirm all this because we have our information from a reliable source! After our stay in Fontcaude, we left so calm and relaxed that we could no longer hear ourselves talking in the low frequencies of our relaxed voices.
An atmosphere that wants to do us good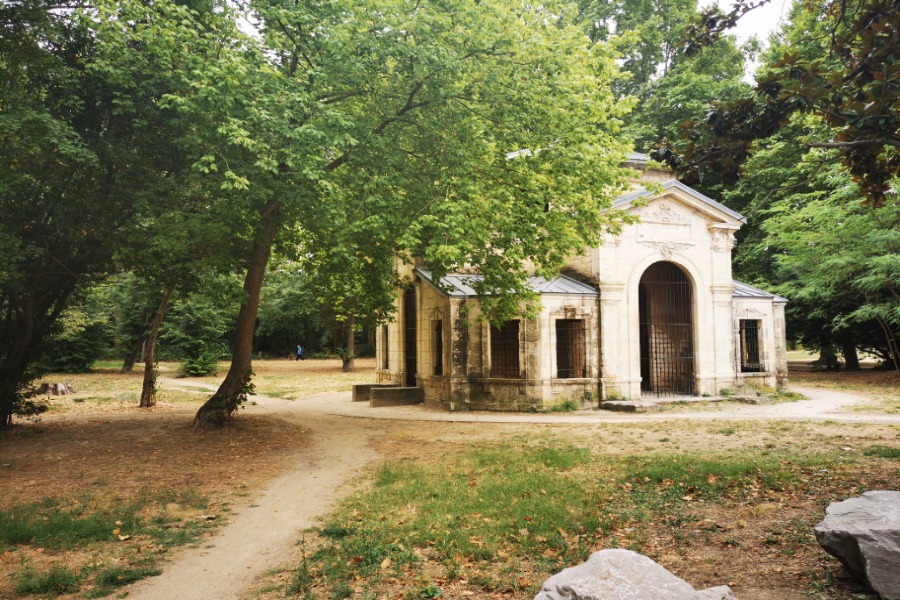 Discovery of the hotel of Fontcaude
Domaine de Fontcaude is located 13 minutes away from Montpellier. A position that is easily understood by its large golf course and the 99 rooms of the hotel. On our arrival, we pass by the remains of Omer Lazard's pavilion. The parking is easy to access and free! An elevator gives us access to the Fontcaude bistro. After walking along it, we arrive at the entrance of the hotel labeled "Les Collectionneurs".
We receive a charming welcome and in the respect of the sanitary measures before starting the discovery of the place. Then, it's time to meet our room, our best friend during two days under the prism of luxury, beauty and gastronomy!
The Room: an ultra-comfortable cocoon
No sooner have we entered the room than a delicious freshness envelops us. We quickly understand that everything has been thought out for our comfort, from the thick carpet to the ideal temperature that contrasts pleasantly with the warmth of the outside.
So we settle down in our Standard Room with a Golf View. What a pleasure to walk through this vast space and its soothing play of colors! Here, different shades of beige and walnut stain blend harmoniously around judicious placements of lights … But don't let us be fooled, the hotel has many other arguments and we owe it to ourselves to discover them for you!
A small tour in the spacious and ingeniously arranged bathroom. We discover with pleasure that the cosmetics offered come from our partner Sothys. We will come back to this a little later. Special mention to the false ceiling and its geometrical lines crowning the room. With its subdued lights, it instantly plunges us into a Zen and luxurious atmosphere.
The spa hotel of Fontcaude having welcomed us at noon (its arrival and departure schedule), it is time for us to make an opinion on the restaurant of Juvignac "Le Bistrot de Fontcaude".
"Le Bistrot de Fontcaude"
The restaurant of Fontcaude Hotel & Spa reveals a cuisine "like at home". It is generous and offers a fairly good quality/price ratio. Also, the choices are numerous and heterogeneous. At the same time, we find refined dishes certified gastronomic, hearty dishes (we think here of the cockerel) but also vegetarian and gluten-free!
Among the starters, we highly recommend the beef carpaccio. An abundant and perfectly seasoned plate… a delight! As for meat lovers, you will be delighted by the beef entrecote of 400 grams and its perfect cooking! For the desserts, we appreciated the pretty selection of pastries that goes well with our gourmet coffee as well as the judicious choice of cheeses.
Moreover, our repeated visits to the Fontcaude bistro also led us to recommend its excellent red "moulin de Gassac Guilhem" to wine lovers.
And for breakfast at the hotel de Fontcaude? Sanitary measures oblige, the choices are slightly restricted. However, those who love sweets will find different types of pastries and their assortments. Conversely, brunch lovers will opt for scrambled eggs that can be accompanied by bacon and cheese.
At the end of the day, we are satiated. It's time to discover one of the most beautiful spas in Montpellier!
The Fontcaude Spa: a source of benefits
Powered by the historic Fontcaude spring, this fitness center offers a unique combination of high-end equipment. We immediately realized the hotel's know-how in terms of well-being and health and we will explain why!
Swimming pools: 2 ways to swim in happiness
Summer and winter alike, you will be able to benefit from the properties of Fontcaude's thermal water. Whether in the huge indoor pool or in the sunny outdoor pool, we have the luxury of relaxing in privacy. The hotel's indoor pool is modern and technological. Hydromassagers are hidden here and offer us a game of exploration around letting go.
Feel free to relax by the pool and encourage the brave to venture out for intense aquagym sessions… or try the physical benefits of aquabiking for yourself!
With a perfect temperature of 32°, the heated pool was able to quickly relax us despite the stress of the last few months. In front of our pool, we can contemplate the hotel's outdoor swimming pool. The latter offers many deckchairs for lovers of tanning sessions!
Hammam & Spa: relaxing after a day in Montpellier
The 4-star hotel in Fontcaude offers a very beautiful modern infrastructure with many facilities that meet our selection criteria and give access to the Unique Hotel Spa network.
Thus, we were able to enjoy two large hammam rooms without having to worry about the limited space of these wet rooms that we love so much. For the Sauna, an equally spacious room allows us to continue our relaxation itinerary, punctuated by invigorating showers.
Note that the health crisis has forced the hotel to suspend access to the ice fountain. We welcome this decision!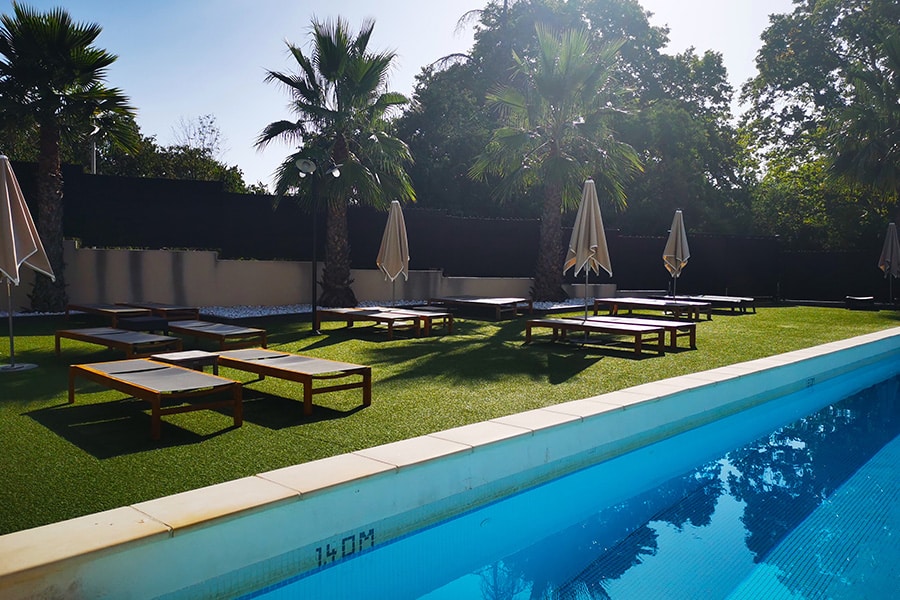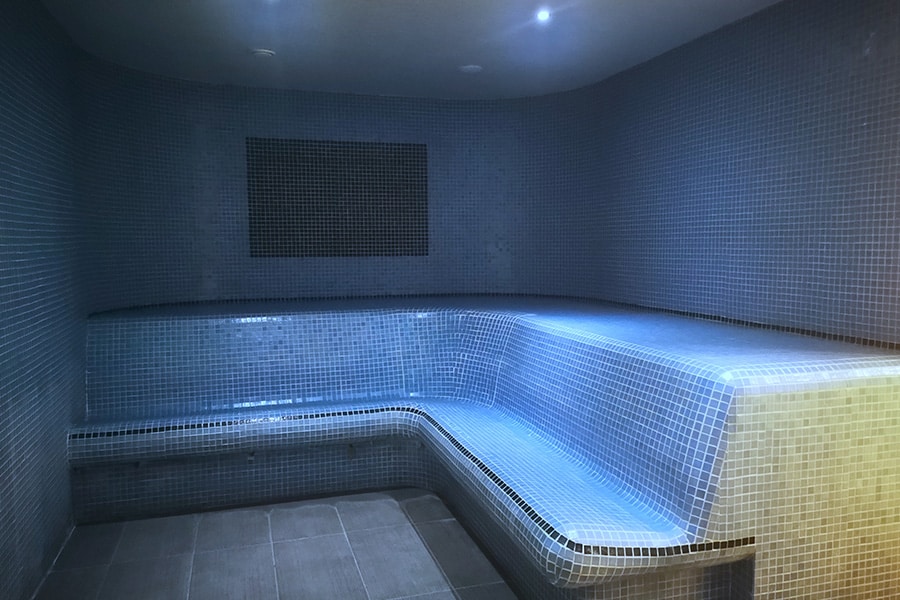 The map of treatments and services offered with our partner Sothys
The treatment menu of the hotel de Fontcaude is vast: we invite you to discover it!
On the program: intoxicating moments of plenitude with Sothys Cosmétique around rituals from the 4 corners of the world. And yes! Fontcaude Hotel & Spa has chosen as its care partner the essential brand Sothys that we love so much at the editorial office!
Why Sothys? Because the effects and the quality of their products can be felt from the moment they touch your skin.
With Sothys, Fontcaude offers a wide range of massages for body and face. Unfortunately, we did not have time to take advantage of this Sothys cosmetic expertise. It is with pleasure that we will test them for you in a future report!
Note that this health and aesthetic medicine center also has a partnership with SkinCeuticals. Together, they offer a SkinScope skin diagnosis free of charge on all treatments.
Finally, whether you are an experienced sportsman, a couple or at the heart of a stressful life that requires a break (however short), the Fontcaude spa hotel offers a particularly effective fitness program. And this, in an environment where you feel at home. What's more, the benefits of our stay continue to be felt, even after a week.
We have warned you: discovering Fontcaude means wanting to come back!
How to get to the Hotel de Fontcaude?
The Hotel Spa de Fontcaude is located in Juvignac, at the gates of Montpellier. Discover a privileged and easy access location!  Cross the Hérault, Languedoc-Roussillon and Occitanie regions simply from the Mediterranean Sea.
Your destination is located by the A9 and A75 freeways, and by TGV lines or by plane. Make the Hotel Spa de Fontcaude your idyllic resort for a day, a weekend or a cure.