Boutique Hotel with an oriental spirit
Located in the heart of the red city, The Pearl Marrakech is a luxury hotel that breathes the mystery and exoticism of another world. A beautiful escape to an oriental paradise, imagined and designed by the world-renowned designer Jacques Garcia. The interior decoration of this extraordinary luxury institution is a subtle blend of ancestral Moroccan know-how and a contemporary touch that is manifested both in the choice of textures in draped silk and velvet fabrics and in the traditional Moroccan lighting conducive to intimacy and relaxation. The atmosphere is chic and refined. A perfect synthesis between Moroccan influences and contemporary art as the central hall covered with carved wood. The Pearl Marrakech is composed of 71 rooms including 22 suites of exception displaying a decoration in the image of the pure Moroccan tradition. Each room and suite includes a private balcony to enjoy the breathtaking view of the Atlas Mountains and the centuries-old Koutoubia and a beautiful lounge area for upscale comfort. A rooftop swimming pool allows guests to enjoy the view of the gardens and the city.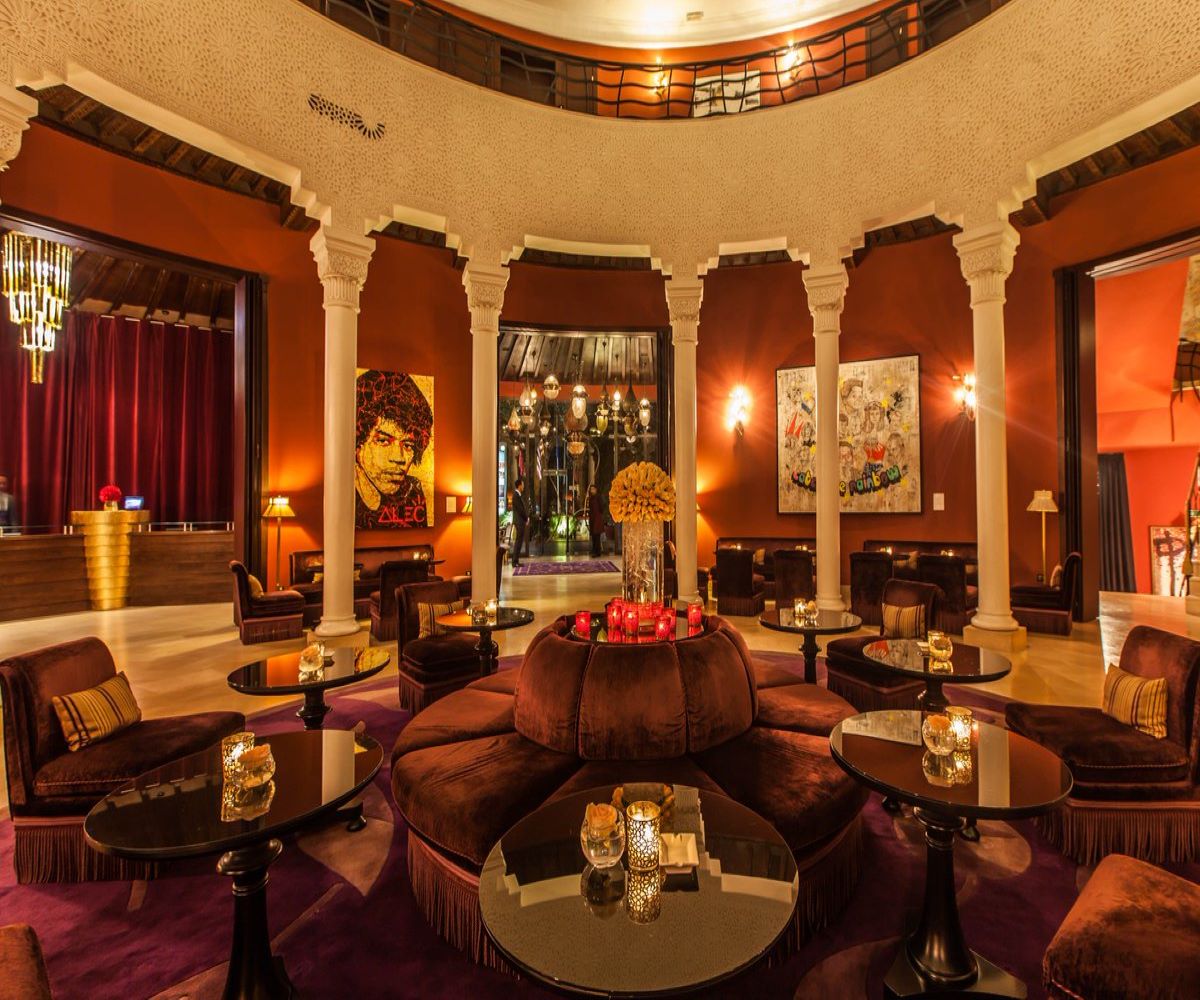 An Inter Continental Culinary Journey
The hotel also offers several eclectic dining options, starting with La Galerie located in the heart of the hotel overlooking the swimming pool and the outdoor garden, decorated in gold and velvet tones and offering a refined menu all day long until midnight. This is followed by the Jouhara restaurant, a culinary journey driven by Moroccan gastronomy. The menu of the restaurant is composed of the most delicious dishes of the kingdom to satisfy the most greedy with in premium of the artistic shows to live unforgettable moments. The Japanese restaurant Namazak, located on the roof of the hotel, offers a breathtaking view of the medina and serves refined Japanese cuisine that combines traditional recipes with contemporary creations. The Italian restaurant Del Café, an elegant traditional Italian brasserie, offers a generous gourmet menu in a relaxed and sophisticated setting. And finally, the Rooftop Garden, a rooftop restaurant and terrace bar, is the ideal place to relax over lunch or dinner in a lounge atmosphere under the stars of Marrakech.
Relaxation Odyssey
The Pearl Marrakech also offers a relaxation area "The Pearl and Spa" considered as the most beautiful spa in Marrakech. On more than 2,000m2, you will discover 14 cabins for massages, aromatherapy, hammams, saunas, treatment rooms, an equipped fitness center, an indoor pool of 25m², a vip suite with a hammam and a private treatment room, all in a subdued atmosphere. It is certainly one of the most beautiful spas in Morocco.
The Pearl Marrakech is the guarantee of a unique stay in an exceptional setting with a breathtaking 360° view of the city and the Koutoubia mosque. During your stay in the ochre city you will have the opportunity to discover the luxury boutiques near the hotel, visit the royal palace and the Jamaa El Fna square only a few minutes walk away.
Photo credit: Google Images, The Pearl Marrakech