Located on the top floor and offering an extraordinary panoramic view, the Ceto restaurant is totally dedicated to one of Mauro's favorite themes: the sea.
With its focus on sustainable fishing, the restaurant is committed to a responsible approach: respect for the seasons, sustainable fishing, variety of fish, anti-waste… Ceto also puts a surprising ingredient at the heart of its recipes: seaweed, which the chef uses from starters to desserts.
A forerunner in this field, the restaurant has introduced an exclusive technique for preserving fish: a maturing chamber that reveals unprecedented flavors. Architect Marcelo Joulia designed Ceto's décor, reflecting the chef's inspirations and creations.
Elegant, bewitching marine depths stimulate the imagination. The reflection of the seabed radiates over the premises, which are already bathed in natural light. The waves, the waves, the water, the purity of colors and tableware, everything has been thought out so that the restaurant is a continuity between the sky and the sea.
The tableware embodies the marine concept with elegance and relevance. The glassware in the Glaz collection features blown glasses made by Lucile Viaud from seaweed and marine waste, giving them lovely blue-green tones.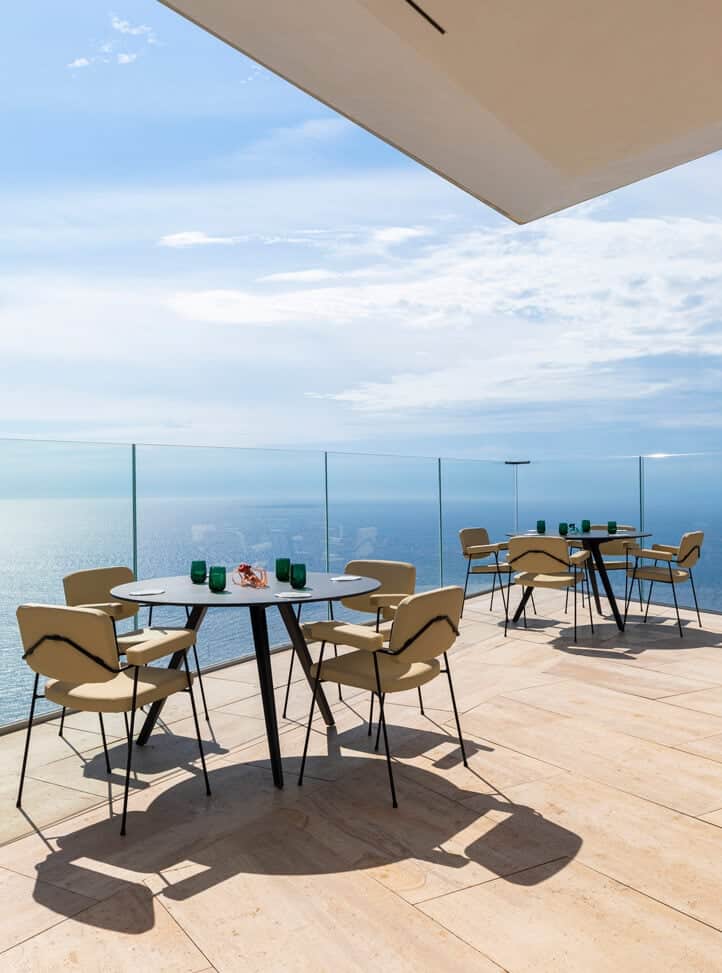 The plates, too, were designed especially for Ceto by Santos Bregana. To reflect the Mediterranean seabed, Hervé Allègre supplied sculpted stone blocks to accompany certain dishes. As for Cipières-based cabinetmaker Thibaut Rodde, he makes wooden tools that are then enriched with fish bones to give life to unique utensils.

In March 2022, and after just five months open, Ceto wins its first Michelin star. Mauro Colagreco is backed up by a team of young talents who have already cut their teeth at Mirazur: Andréa Moscardin, and Julieta Canavate (for pastries).