New product coup de coeur well-being following our meeting with Manon and Clément, a couple from Ardèche who are passionate and invested in the work of saffron without chemicals and mechanized tools! After several years of research and studies in order to produce, harvest and sublimate saffron, these lovers of the earth have made us discover an exceptional range of products that we share with you today!
"The secret of happiness", wellness cure with the precious spice
Soft and refined flavors will sublimate your moments of relaxation with the bottle of saffron elixir combined with white tea leaves carefully selected by Manon and Clément.
In this 200ml elixir composed of water, sugar and saffron, you will find the fruit of a meticulous work carried out over several months: production in the saffron field, harvesting over a month, and production of saffron from its flowers (150 to 200 flowers for 1g of saffron).
With a teaspoon of Elixir in a cup of gold leaf twice a day for 20 days, you will benefit from the exceptional virtues of the saffron cure:
The properties of white tea: Very rich in oxidants, it is considered a natural remedy with a thousand and one virtues and particularly for its calming properties.
The virtues of saffron elixir: In addition to being a real gustatory pleasure, the saffron cure is very rich in magnesium and therefore offers calming, sedative and anti-oxidant properties.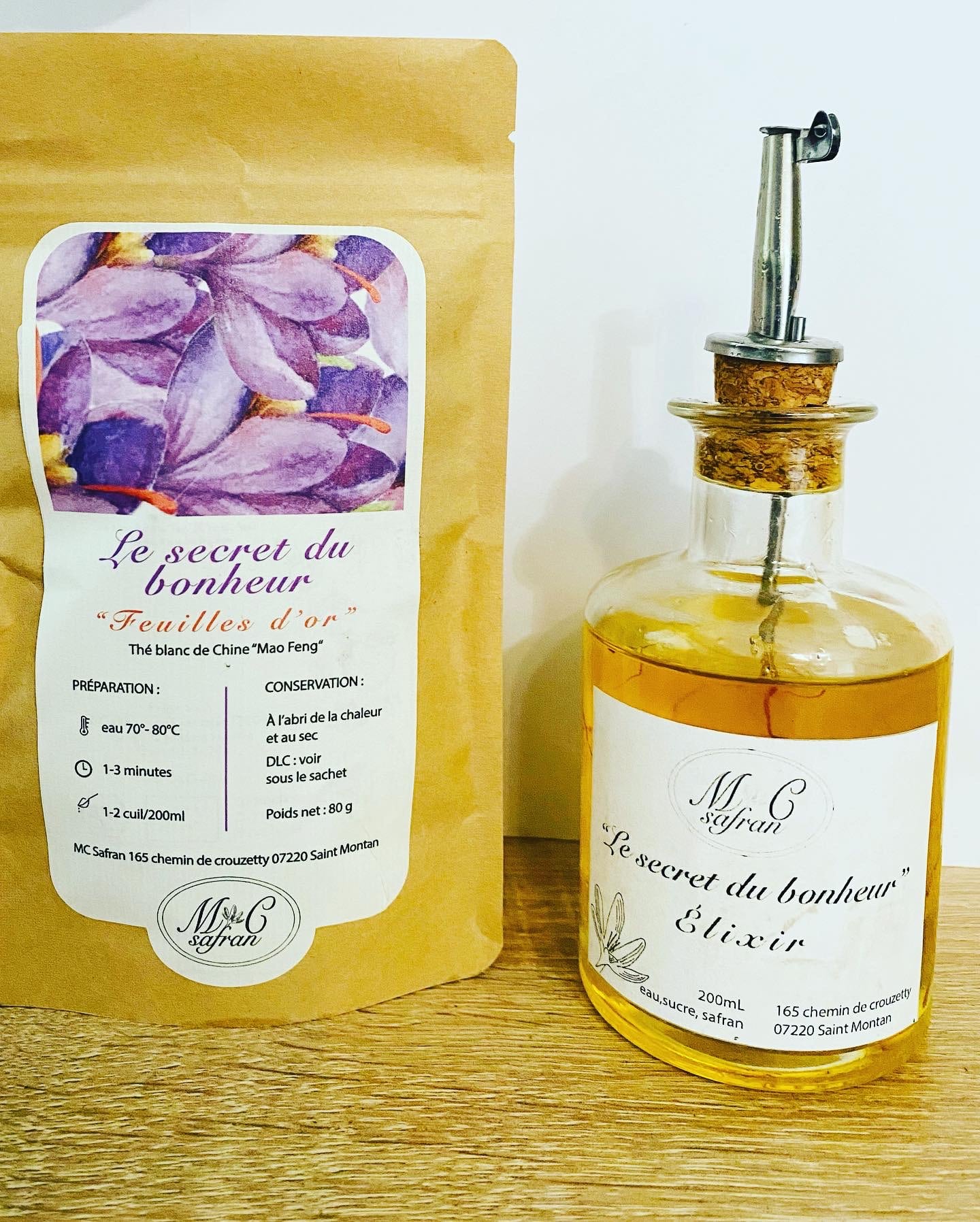 A real relaxation break to be enjoyed after a sauna, hammam, or any other relaxation activity! A work of goldsmith over several months accessible for 86€ with the 20 days cure.
Make your first order directly with Manon at 06.99.95.21.07 or by mail : manon@gallety.fr
Their website is coming soon, first things first 🌸 But you can check out the beautiful Instagram page right here!
A "plus offer" for hotels with spa, highly dosed saffron cure!
Friends and readers of hotels, for your customers, MC Safran offers a version of the saffron elixir with a much higher dosage of saffron in order to benefit from the effects of the 20-day cure in just one relaxing weekend.
Opt for a natural, French product of extreme quality by contacting MC Safran at 06.99.95.21.07 or by mail: manon@gallety.fr