The time for summer vacation has come, so here's to afternoons on the beach, hikes in the mountains or even laps in the pool. It is then important not to forget to take care of your skin by protecting it from the sun. That's why the GM Group has teamed up with the Hei Poa brand to create a range of hotel sun products. The powerful scent of Monoi and the bewitching notes of Tiare flower come to embalm your vacations to give them an exotic air.
Hei Poa's traditional Polynesian Monoi in the GM Group's finest hotels
HEI POA has been marketing its Monoi in France since 1976. The typical glass bottle is decorated with a beautiful sunset evoking the sun and vacations. It transports us to Polynesia, where Tahitians use it to massage but also to nourish, moisturize* and perfume their skin and hair.
Monoï Appellation d'Origine is obtained from the maceration of fresh tiare flowers in natural oil extracted from the coconut pulp.
The appellation "Monoï de Tahiti" is a guarantee of quality that announces a product made in the respect of the Polynesian tradition with local products. "Pure" Monoi is a product containing at least 90% Tahitian Monoi, as opposed to Monoi "oil" which contains only 50 to 90%.
* Hydration of the upper layers of the epidermis.
The complete Hei Poa range to be found all over the world
This new range of products consists of three products. The Monoï SPF 30 sun lotion offers high protection against UVA and UVB rays. Easy to use thanks to its 40 ml spray bottle, it protects your skin from the sun while enveloping it with a sweet scent of Tiare flower, orange blossom, coconut and vanilla. Then apply the after-sun milk spray with Monoï de Tahiti AO and aloe vera. This sensual milk with notes of freesia, coconut water, vanilla, jasmine, neroli, frangipani, tiare and ylang-ylang helps soothe your skin after sunbathing. And its 40 ml spray bottle allows you to apply it generously. Finally, complete your wellness session with Pure Monoï de Tahiti, whether to moisturize your hair or enhance your tan. The 30 ml bottle is ideal to slip into your beach bag.
Thanks to the GM Group's international network, you can find these three products in the most beautiful hotels in more than seventy countries around the world.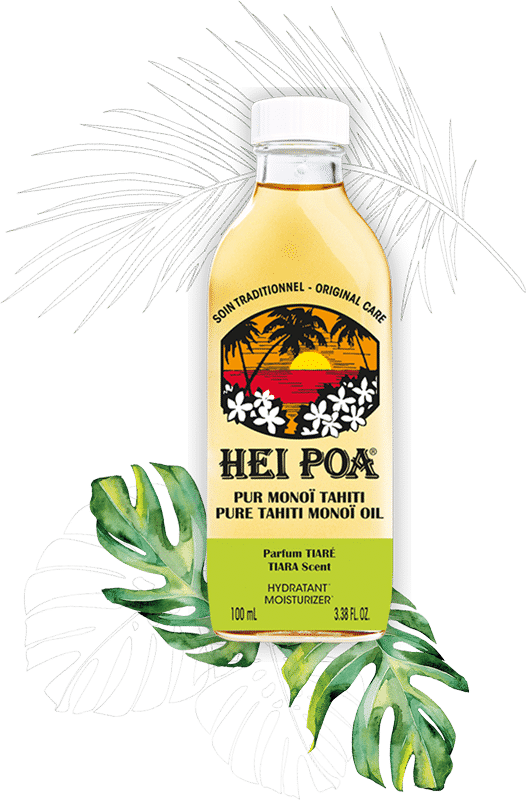 Unique Hotel Spa's opinion
At Unique Hotel Spa, we had the chance to test this range and our opinion is unquestionable! The first thing we remember is their bewitching scents that immediately transport us to a beautiful beach in the sun. Then, the texture of the products is very pleasant because they spread easily without sticking or leaving an oily film on the skin. The small bottles are perfect because they don't take up space in a bag, and the spray format allows the bottle to stay clean and not drip. Of course they are small, but you don't need a lot of material each time you use them so the products don't get empty too quickly.
Introduction to the GM Group
The GM Group has been designing, manufacturing and distributing hotel hospitality product lines for over 45 years. Between its own products and those of its partners, the group offers more than 30 brands in more than 70 countries around the world. Respect for nature is an important part of this process, and the group promotes its values through the Care about Earth program. Its goal is to reduce its environmental impact by continually seeking eco-responsible alternatives to single-use plastic and fossil fuels.